Popular Walking Tours in Tromsø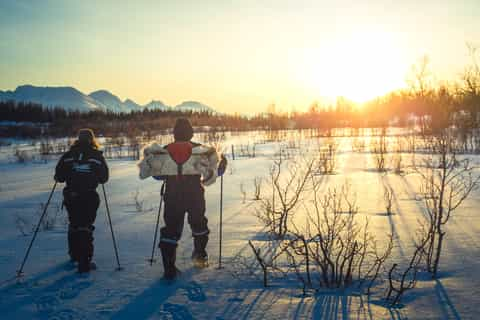 From Tromsø: Snowshoe Hiking Tour and Husky Camp Visit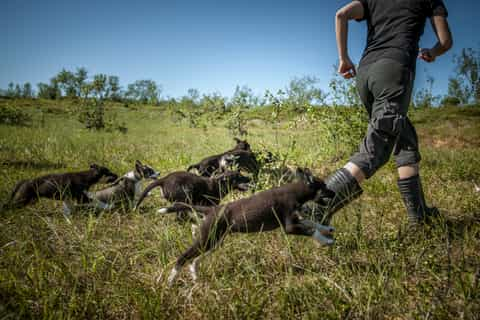 Tromsø: Puppy Training at the Husky Home
Free cancellation
Change of plans? No problem. Cancel up to 24 hours before your activity starts for a full refund.
What people are saying about Tromsø
My Son and I had a lovely evening with the gorgeous huskies and their puppies. The warm clothing and boots were really helpful so you could get right down with the dogs. The guide was informative, friendly and the dogs were obviously loved and cared for brilliantly. After meeting the dogs we went to the viewing platform where we had yummy hotchocolate, marshmallows and biscuits by the camp fire while another, very knowledgeable guide explained the science behind the Northern Lights. We then had delicious, traditional Bacalao served in a comfortable, warm sami tent. A very enjoyable and informative evening with friendly and helpful guides and a very accomplished coach driver (there was a blizzard blowing!)
We did see the northern lights, and we could not go dog-sledding due to lack of snow. But no human can do anything about that... Thanks to kind and knowledgeable staff, we still had a great night out. Sitting by the fireside, meeting the huskies (such a wild but cuddly bunch!) and having a nice dinner in the "gamme" - a really good experience. Also, well-arranged transport from downtown Tromsø and back.
That was the best experienced to be in a camping site and waiting if theres a chance to see a northern light while drinking hot drinks on your choice but dont worry the Huskies are there to Pamper you and a very nice tour guide Will also help you to chat and ready to explain if you have some questions. Perfect place and can be recommended to everyone. Specially if your a dog lover
Fantastic guide and company!! The food was great and we saw a spectacular lights show!!! I couldn't have asked for more! I would 100% recommend this company!!!! DO NOT MISS IT! ❤️❤️❤️
great place! awesome dogs! staff very nice. the food is very delicious! although we already thought we would not see the northern lights we saw it! I recommend!