114 activities found
Activity ranking
Activities on the GetYourGuide marketplace are ranked by a combination of factors including popularity, diversity, availability, customer rating, cancellation rate, performance over time, and amount of revenue generated.
5 best day trips from Prague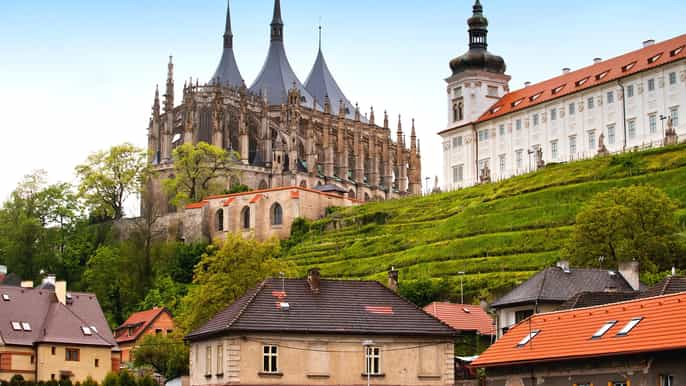 1. Day trip to Kutná Hora
Take a trip from Prague to Kutná Hora get to know one of the most fascinating towns in the Czech Republic. Kutná Hora was an economic powerhouse in the Middle Ages due to its local silver mines. Today, the town is rich in history and culture. The most popular sights in town are the incredible Gothic Church of St. Barbara, the Cathedral of Our Lady, and the delightfully creepy bone-lined chapel of Sedlec Ossuary. The town's Silver Museum is also a great place to visit and learn about the town's glittering history.
How far is Kutná Hora from Prague
The 78-kilometer (48 miles) journey south from Prague to Kutná Hora takes around 90 minutes by car or bus. By train, the trip is a bit quicker, taking about an hour.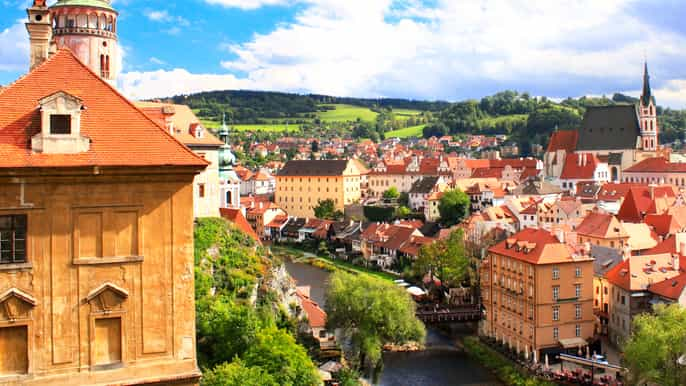 2. Day trip to Český Krumlov
Once you set your eyes on Český Krumlov, you'll see why this picturesque town on the Vltava River is one of the most popular day trips from Prague. The best-known landmark in town is the grand cliffside Český Krumlov Castle, the second largest in the country. Take in the views of the town's red-tiled roofs from the castle's gardens or tower, and tour its ornate Baroque theater. Apart from the castle, other points of interest include the Cathedral of St. Vitus and the Minorite Monastery. During the summer, you'll catch people floating down the city's river.
How far is Český Krumlov from Prague?
You'll want to plan ahead to travel the 171 kilometers (106 miles) south to Český Krumlov. On the train or the bus, the trip takes around three hours, while a private vehicle can reach the town in just two and a half hours.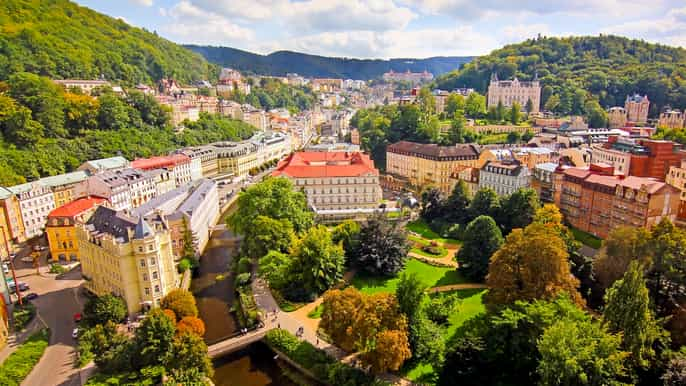 3. Day trip to Karlovy Vary
For some rest and relaxation, escape the crowds of Prague with an excursion to the glamorous Karlovy Vary. With more than 300 natural hot springs, over the centuries Karlovy Vary has grown into the Czech Republic's premier spa town. Get to the source of all that hot water at the Vridlo geyser, which shoots water up to 12 meters (39 feet) high. The city is also well known for its Moser glass, whose factory is a can't-miss destination. Finally, don't forget to take in the full splendor of the town with a panoramic view from the Diana Observation Tower.
How far is Karlovy Vary from Prague?
Located about 130 kilometers (80 miles) west of Prague, heading to Karlovy Vary by car can take as little as 90 minutes. By bus, expect it to be closer to two hours, while the train takes even longer at three hours.
4. Day trip to Telč
Take a day to visit the little town of Telč — a popular Moravian getaway. The main attraction here is the architecture of the UNESCO-protected main square, lined with colorful facades and pleasant gabled rooftops. Telč Chateau is also a must-see sight, with its intricate frescoes and porticoed courtyard. Finally, stop by the Technical Museum to check out the vintage machines, ranging from telephones to antique vehicles.
How far is Telč from Prague?
The 158-kilometer (98 miles) journey to Telč is just as beautiful as the destination. Drive time by car averages about two hours, while the bus takes two and a half to three hours. With a travel time of up to four and a half hours, taking the train may not be an efficient option.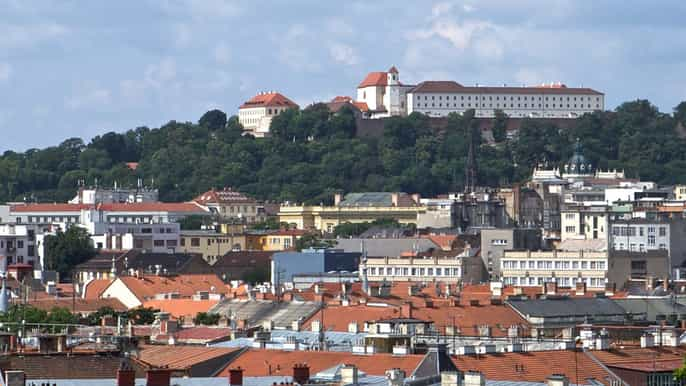 5. Day trip to Brno
As the second-largest city in the Czech Republic, Brno offers many things to do and see on a day trip. The charming city has far fewer tourists than Prague, making it a great place to explore without the crowds. Travelers should check out the massive collection at the Moravian Museum, the hilltop Spilberk Castle which now contains the Brno City Museum, and the Cathedral of St. Peter and Paul.
How far is Brno from Prague?
By car, the 205 kilometers (127 miles) to Brno take just about two hours to cover. Public transportation is only a little bit slower, taking around two and a half hours by bus or by train.
Prague day trip FAQ
What transportation options are best for my day trip?
If you're trying to figure out how to get to your destination, it can be a bit difficult to decide what is the best method of transportation.
• Prague day trips by train

The Czech train schedules can sometimes be hard to decipher. Getting between main cities and places close to Prague are the best times to take the train. Often, taking the train longer distances in the Czech Republic can involve one or more transfers and many stops, so it is not always the most efficient option.

• Prague day trips by bus

There are many buses that depart from Prague for most common day trip destinations. These buses are frequently the best option for getting from place to place, being both the most affordable as well as the most convenient.

• Prague day trips by car

Taking your trip by car is one of the best choices for flexibility and efficiency. With your own vehicle, you can reach destinations around the Czech Republic that have little or no public transportation, as well as make spontaneous stops throughout your adventure.
---
Should I take a guided tour for my day trip?
A guided tour is one of your best options for a day trip from Prague. Taking a tour provides you with tons of history and information, making your time in each place you visit more meaningful. Other convenient perks of most guided tours include saving you the work of arranging transportation and entry to attractions.
---
What should I pack for my day trip?
What to bring really depends on what you do and where you go from Prague. Plenty of guided tours will already equip you with everything you need for the day. Warm clothes and rain gear are recommended if traveling during the winter months.
---
What people are saying about Prague
I was lucky since my guide Joseph has a background in geography. He is very knowledgeable and introduced the formation of the park in a way of easy understanding. I was the only customer in this trip but didn't feel awkward at all as Joseph treated me like a friend while in the same time he took care everything very well. I strongly recommend this tour if you are a nature lover and want to see different scenery.
The tour in Český Krumlov is a must do when in Prague. The Prague Bus Tours team was great, both our tour guide and driver. Our tour guide, Gustav, always had something to say in every corner of the town and we found this very interesting and valuable and made us appreciate the experience much more. The private van was also comfortable and spacious.
Our tour guide George was fantastic! Very knowledgeable of Prague history as well as the Kutna Hora area. Would highly recommend this tour for anyone looking for a quick excursion outside of Prague.
Our guide was excellent. Very knowledgeable. She made an effort to make sure we were comfortable. Took stops in any shops we wanted. She was very nice and totally caters to what you want to do.
Great day filled with beautiful architecture and fun facts.