Phi Phi Islands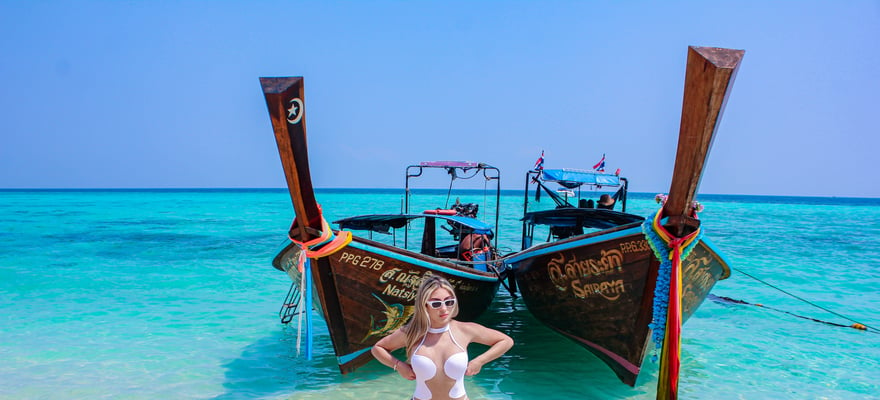 93 activities found
Activity ranking
Activities on the GetYourGuide marketplace are ranked by a combination of factors including popularity, diversity, availability, customer rating, cancellation rate, performance over time, and amount of revenue generated.
What people are saying about Phi Phi Islands
This was the best GetYourGuide Tour I ever did while in Thailand. TOTALLY WORTH IT. Even if they charged double the price, I would still purchase it!! Not only were the views of the Phi Phi islands phenomenal, and the activities fun, but the service was extraordinarily great! Although it was not included in the description, after being picked up, all the patrons were given a complimentary breakfast (toast, jam, coffee/tea) 3 or 4 snacks (all of which were good, and not cheap), and at the end of the day every person was given a magnum bar. Moreover, the staff of the boat bent over backwards to help everyone take photos, and already had everyone's name/face memorized by the time we reached the first stop. Our guide/leader, Paula, was very knowledgeable and personable, which we loved. All in all I would highly recommend this to anyone staying in Phuket.
This private boat tour was the best! I booked initially for myself and my partner but then he fell sick and I went completely alone. It was still amazing and my captain Malek (boat name Deena) ensured that I was safe cuz I can't swim and helped me take lots of pictures. We made many stops during the entire 6 hour tour and even stayed a bit longer to snorkel at maya bay. The tide was low at the time he told me, so I was comfortable enough to get in the water at every stop and enjoy the stunning views. I brought food and soda drinks with me as food is not included, but there was enough water and even sliced pineapple to munch on along the way. Would definitely do this trip again as I loved the privacy and flexibility of it all. 10 stars would recommend. Thanks again!
The tour was absolutely amazing! The guide was very kind and helpfull. I was travelling alone and the guide helped me with making pictures and he was very flexible. I also had time enough to use my drone in good spots. When there is something I get a really fast response on WhatsApp, and that was really fine and helped me a lot during the tour. I really recommend to do a private tour if you want to visit phi phi islands!
We booked the toor as last day on the vacation. Best tour we could have found! The guide, "Sexy Coco", makes all the difference and it was a real pleasure to spend the day with him and his team. He would take you in all the key places and he is so knowledgeable about the location and there to assist you. 5 star islands, 5 star trip.
Everything was very profesional and perfect. All team was so helpfull, special thanks to the girl and her name is Pola or Paula, she was really amazing. Thank you for this experience! I really recommend this trip!!!!