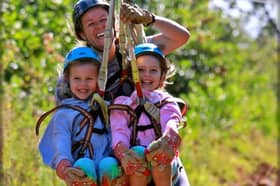 On this seven zipline canopy tour, you will soar through the tops of giant eucalyptus trees while getting a bird's eye view of the Pacific Ocean and Maui's verdant North Shore. Trained guides will lead you high through the canopy of the trees along a network of seven different ziplines, Indiana Jones style suspension bridges, and multiple aerial platforms. This is a tree to tree adventure, so there is no hiking between the lines! Fast, fun, and exhilarating, the NorthShore Zipline Co.'s "Camp Maui Canopy Tour" was designed to thrill first time zippers, as well as the most experienced zipline enthusiasts. This is the perfect Maui family activity, taking kids down to the age of 5 years/40 lbs. Young and old will feel safe and secure at Camp Maui, whose inspection and training is done by Synergo, who is ACCT (Association for Challenge Course Technology) certified.
NorthShore Zipline Co. offers tours and activities for these attractions:
NorthShore Zipline Co. offers tours and activities in these cities:
Things to do organized by NorthShore Zipline Co.