Hanoi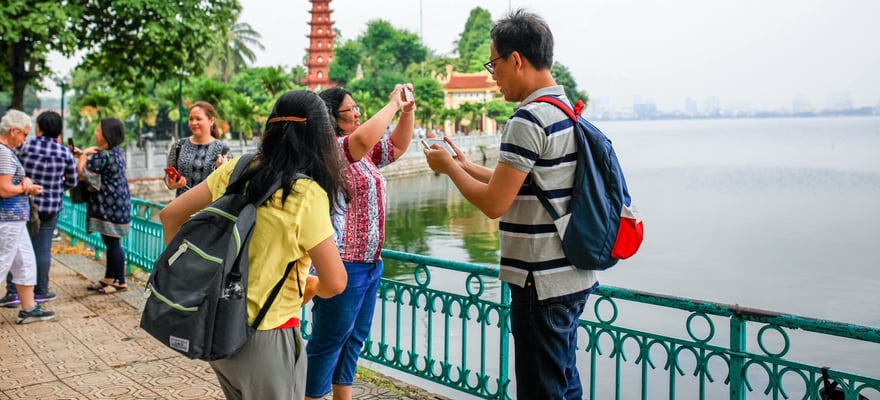 203 activities found
How GetYourGuide ranks activities
Activities on the GetYourGuide marketplace are ranked by a combination of factors including popularity, diversity, availability, customer rating, cancellation rate, performance over time, and amount of revenue generated.
5 best day trips from Hanoi

1. Day trip to Ha Long Bay
If you have visions of craggy limestone islands rising majestically out of turquoise waters, head immediately to
Ha Long Bay
. This iconic landscape is a UNESCO World Heritage Site visited by millions of people every year. Of course, the top activities are boat tours of the bay, which can guide you to sites like the colorfully illuminated Dao Go Cave, the island of Tuan Chao, and the serene bays of Bai Tu Long National Park.
How far is Ha Long Bay from Hanoi?
The 174 kilometers (108 miles) from Hanoi to Ha Long Bay do not go quickly, so leave early and plan to return late. Driving, the journey takes three to four hours. Public transportation is not a good option for day trips to Ha Long Bay. A guided tour is highly recommended for this excursion.
2. Day trip to Duong Lam Ancient Village
For a fascinating getaway from the bustle of Hanoi, head to the hamlets of Duong Lam Ancient Village. One of the oldest villages in the region — as well as the country — Duong Lam has well over 1,200 years of history to explore. Make sure to see the five communal houses — dedicated to local heroes, kings, and gods — admire the Buddhas of Mia Pagoda, and marvel at the temple and mausoleum of the ancient King Ngo Quyen.
How far is Duong Lam Ancient Village from Hanoi?
The 50 kilometers (31 miles) from Hanoi to Duong Lam Ancient Village takes around an hour and 15 minutes by car. Taking public transportation is possible, but allow more time as it takes closer to three hours via several different buses.

3. Day trip to Ninh Binh Province
A day trip to
Ninh Binh
is perfect for those in search of unforgettable natural beauty. The area is best known for its dramatic karst landscape, which can be seen in all its glory at the grottoes of UNESCO World Heritage Site of Trang An or cruising the river to Tam Coc. Don't miss an opportunity to check out the many temples of the 10th and 11th century capital of Hoa Lu.
How far is Ninh Binh Province from Hanoi?
The town of Ninh Binh is 94 kilometers (58 miles) south of Hanoi. By car, the trip is about an hour and a half. Trains take around two hours. A guided tour is an excellent option for a day trip to from Hanoi to NInh Binh.

4. Day trip to Bat Trang Village
Best known for its centuries-old porcelain tradition,
Bat Trang Village
is an excellent day trip for art and history lovers alike. Browse the dazzling rows of artisanal pottery, dishware, sculpture, and other ceramic art that lines the streets and shopfronts of the village. A visit to the Porcelain and Pottery Market is a must, or try your own hand at pottery at the ceramic playground. For a unique experience, hop on a buffalo cart for a ride.
How far is Bat Trang Village from Hanoi?
You can travel the 16 kilometers (10 miles) to Bat Trang Village in just 40 minutes by car. On the bus, it can take from an hour to 90 minutes.
5. Day trip to Ba Vi National Park
Escape from civilization and delve into the lush splendor of Ba Vi National Park. This gorgeous nature area is very popular for walking and hiking, though there are several points of interest to visit. Travelers can join the pilgrims and hike up to the summit of Tan Vien peak to see the shrine of the Mountain God and the Ho Chi Minh Temple. Adventurous people can also explore the ruins of the abandoned French resort that has since been reclaimed by the jungle.
How far is Ba Vi National Park from Hanoi?
It will take between 90 minutes to two hours to drive the 62 kilometers (38.5 miles) to Ba Vi National Park from Hanoi. The bus can range from two to three hours.
Hanoi day trip FAQ
What transportation options are best for my day trip?
Trying to figure out how to get around any foreign country can be intimidating. There are several choices in Vietnam that can fit your goals and travel style.
• Hanoi day trips by train

Trains in Vietnam are old but fairly dependable and travel in most directions from Hanoi. Many destinations outside of main centers may require a transfer to a bus or taxi at some point in the journey.

• Hanoi day trips by bus

The bus is the most comprehensive and affordable public transportation option for day trips around Hanoi. Buses run all over, however depending on the time and specific location could be limited. Traveling by bus may require one or more transfers before you reach your final destination.

• Hanoi day trips by car

Traffic and driving in Hanoi and Vietnam are generally chaotic. If you are a confident driver, a car is a fine option to reach more rural places or to simply take control of your own schedule. Many travelers opt to rent a motorcycle or motorbike to get around, which is a very popular and efficient — though sometimes daring — option.
---
Should I take a guided tour for my day trip?
A guided tour is always a smart choice for day trips, especially in more remote areas of the country. Whether you are struggling with logistics or don't feel confident with a language barrier, guided tours provide peace of mind, convenience, and the opportunity to bond with fellow travelers.
---
What should I pack for my day trip?
What to bring with you on your day trip depends on the season and your destination. For the beach, swim gear, and sunscreen are a good idea, while trips to higher-elevated areas would benefit from warm clothes. No matter the location, always make sure to bring plenty of water.
---
What people are saying about Hanoi
I forgot our guide's name, but he was very knowledgeable. He's the kind of guide that beyond just the tour, if you have extra questions related to the tour or Hanoi in general, will be able to answer.
so very friendly. Great value for money. friendly tour guide. so many wonderful stops. very well organised. I would highly reccomend this company and this tour. March 2023
Brilliant day, great tour guide and an added bonus was the use of cycles through the rice fields
The views and landscape are wonderful, the food served was good and the boat trip very relaxing.
Very good guide, varied activities and above all a magnificent tour of the bay