Popular Sandboarding Tours in Doha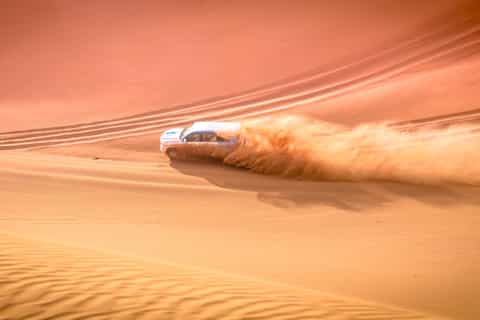 Doha: 5-Hour Safari, Camel Ride, Sandboarding & Inland Sea
Pickup available

Duration: 5 hours

Doha: Sunset Desert Safari with Camel Ride and Sandboarding
Pickup available

Duration: 5 hours

Doha: Desert Adventure, Dune Bashing Safari & Camel Ride
Pickup available

Duration: 5 hours
Free cancellation
Change of plans? No problem. Cancel up to 24 hours before your activity starts for a full refund.
What people are saying about Doha
An exceptional experience if you like a bit of adventure while enjoying the beautiful dessert. We have the ATV ride which is on your own account. At first I was a bit hesitate to take the ride coz I have done it in many other countries, but truthfully it was the best that I ever had. It was a very challenging and enjoying ride. The package also inclusive a short camel ride, which basically for you to take some beautiful IG photos . The dune bashing was thrilled. I loved it. Our driver Arref definitely had very good skills, compared to other 4 wheel drives that came along together. He really gave us the best experience of how he bashing through the dessert. Besides, I wanted to thank Arref for doing nice video recording in his car and he gave us the video at the end of the trip. Very thankful. Sand boarding? Yes it was included. If you don't frequently exercise like me, good luck!! Tried it and you will know what I meant
Dear all GYG staffs and partners        I really appreciate for being kind and reply my email immediately you can. I'm happy and so much fun with your tour rout that make memorable within only one day in Qatar and tour guide (driver) even he doesn't talk much as a guy but he explains everything we suppose to know can answer ever every question that we ask and always care about like he buy me a burger when I hungry even it's not in the plan, take photos for me cuz I'm travel alone and he is very good at drive with 29 years experience.       I will highly recommend your tour program to others or even if I have another times in Doha Love and Thanks, Thamonwan Thongtawee 
The Half Day tour was great. Once we arrived at Sealine we had a camel ride and the obligatory pictures. Then we moved on towards the Inland Sea for some exhilarating dune bashing. We finished up doing some sandboarding which was great fun, before dipping our toes in the Inland Sea. All in all it was most enjoyable. All along our driver/guide Hmoud was excellent assisting with photos etc.
we came back from this great experience with wonderful memories. The Camel Ride was more than enough, the driver has excellent skills and the view...just wow! Tips: take ur camera and have full power, and for the ladies try not to wear a tight dress because of the sandboarding, you will see what I mean.
I have done this excursion before and every time it is the same. I have had different drivers but they are all wonderful. They are there to make sure you are comfortable and are having a great time. I would highly recommend this one. You will not be disappointed.