Popular Meet the Locals in Darwin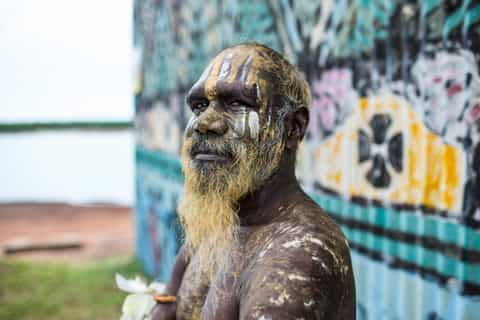 Tiwi Islands Cultural Day Tour from Darwin by Ferry

Darwin: Small Group 2-Hour Heritage Walk
Small group

Duration: 2 hours
Free cancellation
Cancel up to 24 hours before your activity starts for a full refund.
Top Attractions in Darwin
What people are saying about Darwin
The people in Tiwi Island are very friendly. Our guide Kevin gave us a comprehensive overview about the culture and history of the island as well as shared some exciting local stories. The highlight of the visit was definitely the workshop part when everybody could prepare his/her own Aboriginal pattern- painted take-away kitchen towel or T-shirt. It is worth choosing that option from the tour selection even if it is a bit more expensive than the basic cultural tour. The ferry ride is quite long unfortunately, 2 hours and 20 mins each way - this is the only inconvenience of the trip, yet it is absolutely worth going.
This was an interesting experience. there is plenty of time to do everything you could do on the island. I just followed the map and saw everything. The outdoor church, the new church, is worth the walk. The islanders are friendly and i never saw any incident with all the dogs that were there. The park where the boat pulls in, is a lovely place to sit. Probably the only place to get food on the island is the "bistro" or really its just a take away with tables undercover.
A great couple of hours well spent to learnt about some of Darwin's history. A guided tour is always a good way to learn about what you would normally just pass and not know. Our guide knew the history well and made it a very pleasant experience. Would certainly recommend to anyone considering the tour. Thank you.
Really enjoyed the friendliness of the local people. Kevin is a great Tour Leader, very informative ( and patient). Museum is amazing and well set out to show-case the history and culture of the Island. The history of the Church and its interaction with the local culture as Kevin explained it, enlightening!
I think that there should be a more detail description of the island, and items (food, snacks, lots of water. One of the ladies was kind of shocked that the island was so basic. We did enjoy a nice chat with one of local ladies, she was very informative.