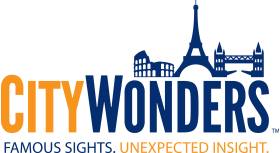 City Wonders Ltd.
This activity provider is a trader on the GetYourGuide marketplace
Legal notice
Legal company name

City Wonders Ltd.

Registered address

6-9 Trinity Street2 DublinDublin

Managing director(s)

RossMantione

VAT registration number

IE9643743O
Contact details
GetYourGuide answers all contacts on behalf of the activity provider
About the activity provider
City Wonders, formerly named Dark Rome, started in 2004 by developing innovative quality tours in Rome, Italy. Our initial concept was to take a small group of visitors on a walk around the historic center of Rome and share stories that they would never hear otherwise, such as the "dark" mysteries and legends that ironically bring the city to life. The ground breaking tour, "Dark Heart of Rome" (which still operates today), was so successful that it led to others, many others in fact. Dark Rome quickly grew to become one of the largest tour companies in Italy. Through strategic relationships, such as our official Vatican Museums partnership, we are able to provide unique experiences for our guests, including no wait entry, early access to the Sistine Chapel, and access to highly-coveted areas of the Vatican Museums that are normally closed to the public – benefits that competitors are not able to offer. Innovative high quality tours with unique customer benefits, stellar guides who deliver tours in only one language, small group sizes, and world-class customer service are hallmarks of our brand and differentiate us in the marketplace. In addition to English, many tours are now offered in Spanish, French, German, Portuguese and Chinese. Following on the success of Italy, the company launched tours in Paris a few years later. We invested heavily in our infrastructure, including a new technology platform and recruiting leaders with the right skills and experience to scale our business globally. In 2014, ten years after the company was originally founded, it was rebranded to City Wonders. In addition to expanding product offerings throughout Italy, Vatican City, and Paris, City Wonders expanded to London. City Wonders tours are sold to consumers via the web and through major travel distributors worldwide. We will continue to innovate to deliver the best products and services available to our guests and distribution partners in every market that we serve, and to become their provider of choice.
City Wonders Ltd. offers tours and activities in these cities:
Things to do organized by City Wonders Ltd.