Popular Activities with Animals in Baden-Württemberg

Segway Tour Heidelberg - Highly Philosophical!

Stuttgart 24-Hour Hop-On Hop-Off Sightseeing Bus Tour
Duration: 1 day

Optional audio guide
Free cancellation
Change of plans? No problem. Cancel up to 24 hours before your activity starts for a full refund.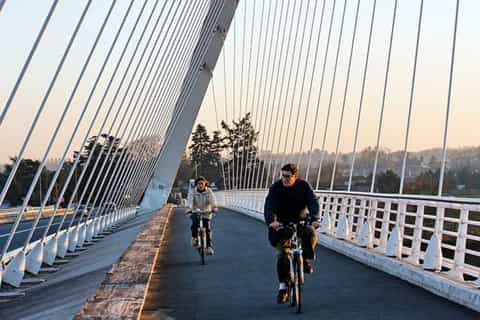 From Strasbourg: 3.5-Hour Bike Tour to Kehl
Small group

Duration: 3.5 hours
Top Attractions in Baden-Württemberg
Things to Do in Baden-Württemberg
Cities in Baden-Württemberg
What people are saying about Baden-Württemberg
Great customer service and knowledgeable staff hands down!!!
We booked our tour well in advance for two people and even though the other six of the group did not show there was no lacking in the services we received. Plenty of time was taken to be sure we were comfortable with the Segway and then we were off for the grand tour. The guide was great to ask if we wanted the historical tour or just to drive the Segway. We opted for the historic tour however were not disappointed with the Segway driving either. It was truely an all around great experience for my wife and I. Thank you very much!!!!
Great way to see Stuttgart & what it has to offer
Easy on/off meeting location. We took the bus all the way around the loop and then went back to a couple of things. Recommend sitting on top for better views but bring a hat if it is sunny! Multiple languages offered with the audio guide (headphones & ear covers provided but you could probably bring your own too if you prefer). We felt it was well worth 15€!
Great way to see parts of the city we may not have visited
Our guide was so friendly and patient (as I was a bit nervous), however after his care and tips, I was soon whizzing around. The segways were in great condition too - would really recommend this trip - only sorry we didn't have time to do a second one.
Tev was the most fantastic guide during our segway tour. He was very patient when teaching us how to operate the segway and was very obliging - taking lots of pictures for us! We would highly recommend this tour!
Got a great overview of the city and it's history.
I haves visited Stuutgart several times but this tour tied it all together and gave me a good history of the city.