Popular TV & Movie Tours in Split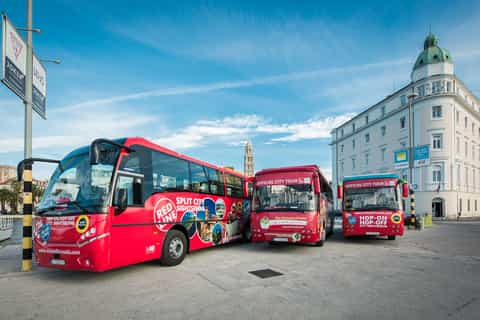 Split: Hop-on-Hop-off Bus Tour with Guided Walking Tours
Skip the ticket line

Duration: 1 day
Free cancellation
Cancel up to 24 hours before your activity starts for a full refund.
What people are saying about Split
Awesome tour, the guide is a big GOT fan, he had a folder on hand to show us scenes from the movie exactly in the locations where they were filmed. He also had a vast knowledge on both the GOT filming details and the general history of the Cathedral, Temple, the Cellars and everything else we visited inside the Diocletian Palace. Also general history of the country, town, local area, including the roman times to the medieval one. You can't stop smiling when he gets so excited about what he will show you next. VERY BEAUTIFUL places to visit and find out about!!!
This was a great day of touring for a very reasonable price. We had Barbara as our guide on the bus to Salona, Trogir and Klis Fortress, and she was very entertaining and knowledgeable. We did the Spilt city tour followed by the walking tour with Renaldo, and he was also very knowledgeable and passionate about the city of Split. I would highly recommend this tour package to anyone looking to get a full day and variety of tours for a great price !! This tour was a great find and I'm glad that I took it
Excellent tour. Adrian was a great guide. Apart from the game of thrones tour we learnt a lot of history of Croatia and Split. The tricks used while shooting game of thrones in Split were explained beautifully. Also being the 100,000th person to enter the fortress of Klis we were interviewed by the TV crew and were given a lovely gift by the mayor. Absolutely loved the tour. Would definitely recommend it.
Luka was an amazing tour guide, biggest GOT fan, was able to answer all of my questions and more. I got Iucky, I was the only one who took the tour that day, and it was simply perfect. Luka showed me exactly from which spot each scene was filmed, and with his enthusiasm and expertise you could really see it! If you love Game of Thrones this is the tour for you!
The tour locations were breathtaking and the guide was very friendly. He definitely went above and beyond to make the tour an unforgettable experience. definitely recommend